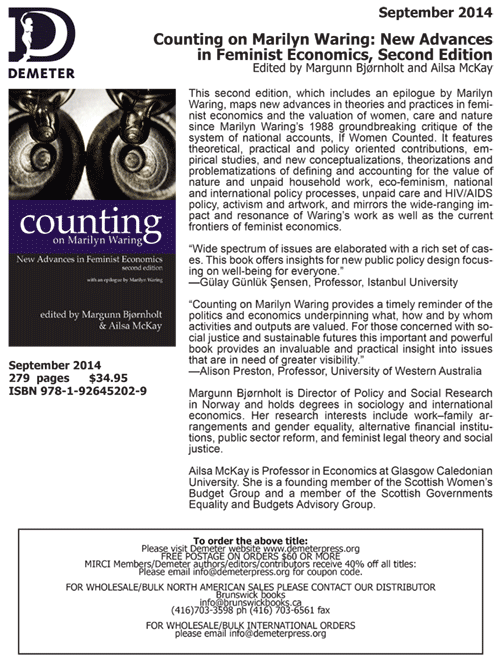 Order Online:
Reviews
While Thomas Piketty's bestseller Capital in the Twenty-First Century barely tests the discipline's boundaries in its focus on the rich, Counting on Marilyn Waring challenges most limits of what economists should care about.
Maria Berg Reinertsen, Economics commentator in Morgenbladet, Norway
Click here for the full review in English.

The Norwegian original
www.margunnbjornholt.no/wp-content/uploads/2014/07/morgenbladet2014.pdf
Media Release for Counting on Marilyn Waring.
Feminist's ideas resonating in unlikely places - The New Zealand Herald - May 3, 2014
September 2014
279 pages $34.95
978-1-92645202-9
Demeter Press
Email: info@demeterpress.org
Table of contents
Contents
Foreword
Acknowledgements
Introduction
Margunn Bjørnholt & Ailsa McKay
Advances in Feminist Economics in Times of Economic Crisis
Margunn Bjørnholt & Ailsa McKay


Feminist Economics as Vision for a Sustainable Future
Iulie Aslaksen, Torunn Bragstad & Berit Ås


Everything Needs Care: Toward a Context-Based Economy
Sabine O'Hara


Reflections on Unpaid Household Work, Economic Growth, and Consumption Possibilities
Iulie Aslaksen & Charlotte Koren


Women's Unpaid Work Was Counted But. . .
Johanna Varjonen & Leena M. Kirjavainen


Accounting For Death: Infant Mortality, the MDGs, and Women's (Dis)Empowerment
Monica J. Casper & William Paul Simmons


Substantive Equality, Stockholm Syndrome and the Costs of Child Sexual Abuse
Shirley Jülich


A Pacific Way of Counting
Tagaloatele Peggy Fairbairn-Dunlop


Narrative Trumps Numbers: Marilyn Waring in the World
Rod Dobell, with Jodie Walsh


If Mothers Counted: Status Symbols for the Invisible Art of Mothering
Hadara Scheflan Katzav & Shira Richter


Whose Rights Count? A Research Journey with Marilyn Waring on Unpaid HIV Care and the Economics of Dignity
Meena Shivdas & Anit N. Mukherjee


Rural, Northern Canadian Women's Caregiving Experiences in the Context of Economic Values
Heather I. Peters, Dawn Hemingway, Anita Vaillancourt & Jo-Anne Fiske


Creating Conceptual Tools for Change: Marilyn Waring's Influence in Australia
Marty Grace & Lyn Craig


Making Mothers' Milk Count
Julie P. Smith


Resilient Feminism: Social Movement Strategy in a Conservative Regnum
Mara Fridell & Lorna Turnbull


Counting Embodied Learning: Marilyn Waring and Feminist Pedagogical Practice
Jill Eichhorn


Post-graduate Supervision with MJW
Karen Webster
List of Contributors