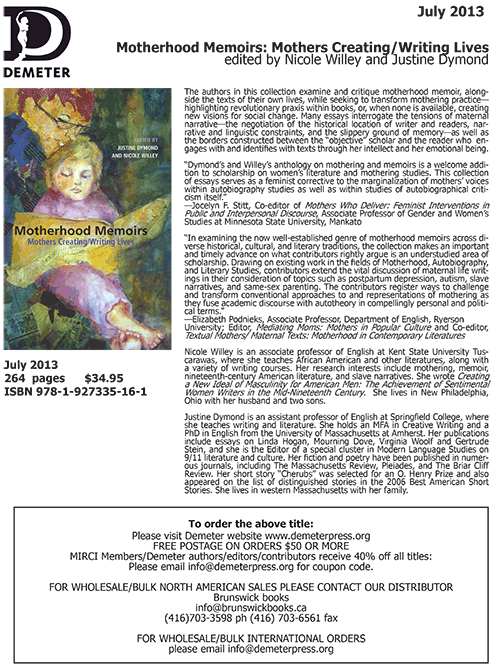 Belchertown author sheds light on postpartum depression in a new book of essays
Daily Hampshire Gazette - December 29, 2013
Click here to order at Brunswick Books.
July 2013
264 pages $34.95
978-1-927335-16-1
Demeter Press
Email: info@demeterpress.org
A Table of Contents
Justine Dymond and Nicole Willey, "Introduction by the Editors: Creating the Collection"

Section 1: The Art of Motherhood
Chapter 1: Rachel Epp Buller, "Visualizing Motherhood: The "Memory Work" of Mother Artists"
Chapter 2: Yelizaveta Renfro, "How to Write the Motherhood Memoir: Writing Guides for Mothers"
Chapter 3: Melissa Shields Jenkins, "A Long Private Letter": Motherhood and Text in the Works of Elizabeth Gaskell"
Chapter 4: Lori Greenstone, "Liminal Ekphrasis: Mediating Motherhood with a Shield"
Section 2: What the Other Books Don't Tell Us
Chapter 5: Pamela Douglas, "Milkmother Memoir"
Chapter 6: Justine Dymond, "'Where's the funeral?': Maternal Silences in Memoirs of Postpartum Depression"
Chapter 7: Rachel Robertson, "Lost and Found: Intimacy and Distance in Three Motherhood Memoirs about Autistic Children"
Chapter 8: Kathleen L. Fowler, "'Just another mother who has lost her child': Memoirs of Caregiving and Loss"
Section 3: Mothers without Borders
Chapter 9: Tara McDonald Johnson, "Transcending the Mind/Body Dichotomy to Save My Own Life"
Chapter 10: Lisa Federer, "We Are Family: Creating Lesbian Motherhood through Online Community"
Chapter 11: Deesha Philyaw, "Letter to a Young Black Mama on Writing Motherhood Memoir"
Chapter 12: Nicole Willey, "In Search of Our Mothers' Memoirs: Form and Function in African American Motherhood in Letters"