Daughters of Empire: A Memoir of a Year in Britain and Beyond
by Jane Satterfield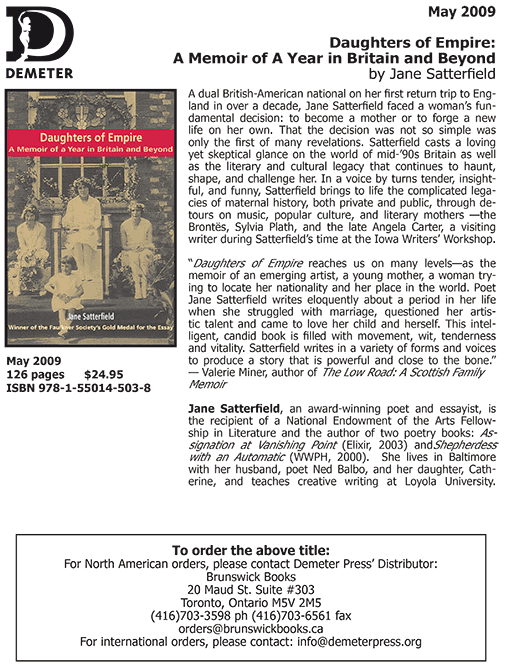 Order Online:
May 2009
126 pages $24.95
ISBN: 978-1-55014-503-8
A dual British-American national on her first return trip to England in over a decade, Jane Satterfield faced a woman's fundamental decision: to become a mother or to forge a new life on her own. That the decision was not so simple was only the first of many revelations. Satterfield casts a loving yet skeptical glance on the world of mid-'90s Britain as well as the literary and cultural legacy that continues to haunt, shape, and challenge her. In a voice by turns tender, insightful, and funny, Satterfield brings to life the complicated legacies of maternal history, both private and public, through detours on music, popular culture, and literary mothers —the Brontës, Sylvia Plath, and the late Angela Carter, a visiting writer during Satterfield's time at the Iowa Writers' Workshop.
"Daughters of Empire reaches us on many levels—as the memoir of an emerging artist, a young mother, a woman trying to locate her nationality and her place in the world. Poet Jane Satterfield writes eloquently about a period in her life when she struggled with marriage, questioned her artistic talent and came to love her child and herself. This intelligent, candid book is filled with movement, wit, tenderness and vitality. Satterfield writes in a variety of forms and voices to produce a story that is powerful and close to the bone."
Valerie Miner, author of The Low Road: A Scottish Family Memoir
Jane Satterfield, an award-winning poet and essayist, is the recipient of a National Endowment of the Arts Fellowship in Literature and the author of two poetry books: Assignation at Vanishing Point (Elixir, 2003) and Shepherdess with an Automatic (WWPH, 2000). Among her awards are three Individual Artist awards in poetry from the Maryland State Arts Council as well as fellowships from the Sewanee Writers Conference and the Virginia Center for the Creative Arts, the Heekin Foundation's Cuchulain Fellowship for the Essay, the John Guyon Award in Literary Nonfiction, the Florida Review's Editors' Prize in Nonfiction, and the Gold Medal in the Essay from the Pirate's Alley Faulkner Society. She lives in Baltimore with her husband, poet Ned Balbo, and her daughter, Catherine, and teaches creative writing at Loyola University.
Click here to visit our Facebook page.
Review of Daughters of Empire: A Memoir of a Year in Britain and Beyond,
April 27th, FeministReview.org
Book Review: Parenting as Persons
reprinted online with generous permission of
Jennifer Thompson the Journal of Family Life: http://journaloffamilylife.org
Review of Daughters of Empire by Jessica Schagerl
from Matrix #85 (http://www.matrixmagazine.org/)
A discussion on Daughters of Empire will take place on "Woman Stirred Radio"
on September 16. Click for more information.
Jane Satterfield will be participating in a panel presentation
at the Baltimore Book Festival on September 27th.
Click here for a Daughters of Empire Review in The Urbanite Magazine, September 2009.
Review linked with generous permission from Sondra Guttman and The Urbanite Magazine www.urbanitebaltimore.com.
Personal History Meets Pop and Prose in Daughters of Empire by Laryssa Wirstiuk.
Reprinted online with generous permission of Laryssa Wirstiuk and Too Shy to Stop magazine http://www.tooshytostop.com.
Q & A With Author Jane Satterfield by Lori A May
Table of Contents
Acknowledgments
I
Daughters of Empire
Another Country
Motherland
II
Looking for Some Action
Knowhere, UK
The Crooked Track
Doors into Dark: Memory as Spectral Text
III
Assignations at Vanishing Point
Larger than Life
Double Exposure
Selected Bibliography
Demeter Press
Email: info@demeterpress.org