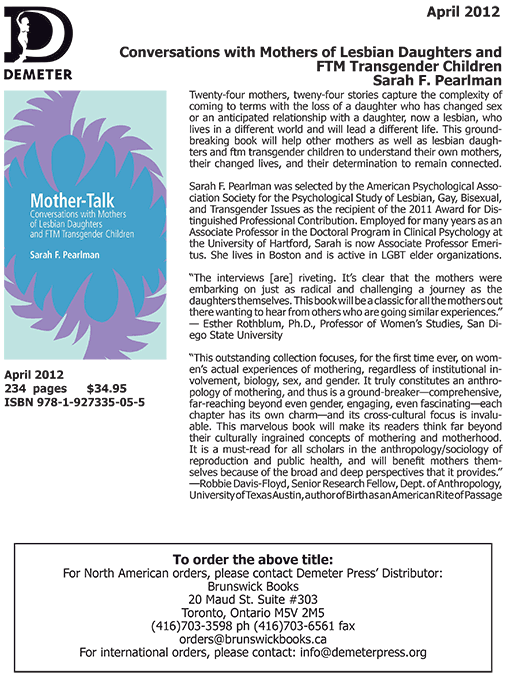 Click here to read a review from the Association
for Women in Psychology Newsletter, Spring 2012
April 2012
234 pages $34.95
978-1-927335-05-5
Order Online:
TABLE OF CONTENTS
Preface
Acknowledgements
Introduction
Devastation
1. Hannah: That Child Always Gave Me Trouble
2. Edie: I Hate Myself For How I Behaved
3. Sara: She Wasn't Going To Be the Nice Little Lesbian I Hoped She Would Be
4. Karen: Gay Was a Piece of Cake
5. Anna: Why Would You Want To Be a White Male?
Loss
6. Elise: She's a Guy Now
7. Mariam: All Those Weddings, All Those Showers
8. Jenny: He's Gonna Lose Everything Except His Parents
9. Lisa: I miss The Person He Was When He Was a She
Adolescence
10. Debra: I Felt Helpless As a Mother
11. Rina: Mom, That's Me, I Am a Boy, Inside I Am a Boy
12. Beth: I Just Don't Like Labels
Not the Only Issue
13. Lila: I Regret the Kind of Mother I Was
14. Fran: She Took Me on a Ride I Wasn't Prepared For
15. Naomi: Parents Do Leave Kids on Hillsides
16. Cheryl: Her Lesbianism Is Third In Line
Connection
17. Shirley: God, Watch Over Her for Me, Everyday
18. Lois: Whatever Kind of Relationship He Wants To Have, We Will Have
19. Eleanor: If I Couldn't Be Supportive, I Couldn't Be Around
20. Annemarie: You Can't Hide a Baby
21. Lillian: My child Is Not an Abomination
Activism
22. Marie: She Made Me More of a Person
23. Judith: I Have a Much Happier Son Than I Ever Did a Daughter
24. Martha: Just Expect to See Somebody That Looks Like Your Former Daughter's Twin Brother

Appendices