CFPs
"New Maternalisms": Tales of Motherwork (Dislodging the Unthinkable)
Editors: Dr. Roksana Badruddoja, Dr. Maki Motapanyane
Deadline for Abstracts: February 15, 2015
Angels on Earth: Mothering in Religious and Spiritual Contexts Editor: Vanessa Reimer
Deadline for Abstracts: March 1, 2015
Mothers, Mothering, and Globalization
Editors: Dorsía Smith Silva, Laila Malik, and Abigail Palko
Deadline for Abstracts: March 31, 2015
Mothers, Sex, and Sexuality
Editors: Michelle Walks and Joani Mortenson Deadline for Abstracts: June 1, 2015
Immigrant/Refugee Mothers
Editors: Helen Vallianatos and Anna Kuroczycka Schultes Deadline for Abstracts: March 15, 2015
Indigenous Experiences of Pregnancy and Birth Editors: Dr. Jaime Cidro and Dr. Hannah Tait Neufeld
Deadline for Abstracts: April 6, 2015
Mothers, Mothering, and Music (Working Title) Co-editors: Martha Joy Rose, Lynda Ross, and Jennifer Hartmann
Deadline for Abstracts:
April 30, 2015
Mothers and Sons Editors: Besi Brillian Muhonja and Wanda Thomas Bernard Deadline for Abstracts: April 30, 2015
Mothers and Daughters
Editors: Dannabang Kuwabong, Janet MacLennan, and Dorsía Smith Silva
Deadline for Abstracts: April 30, 2015
Taking the Village Online: Mothers, Motherhood, and Social Media Editors: Lorin Basden Arnold and Betty Ann Martin Deadline for Abstracts: June 1, 2015
Maternal Ambivalence Editors: Dr. Tanya Cassidy, Dr. Susan Hogan & Dr. Sarah LaChance Adams Deadline for Abstracts: September 1, 2015
FORTHCOMING TITLES
SPRING 2015
BOOKS MAY BE PREORDERED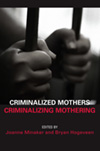 Criminalized Mothers, Criminalizing Mothering
Co-editors: Joanne Minaker and Bryan Hogeveen
January 2015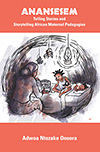 Anansesem: Telling Stories and Storytelling African Maternal Pedagogies by Adwoa Ntozake Onuora
February 2015

"This is what a feminist slut looks like":
Perspectives on the SlutWalk movement
Edited by Alyssa Teekah, Erika Jane Scholtz,
May Friedman, Andrea O'Reilly
March 2015

Mothers Under Fire: Mothering in Conflict Areas
Edited by Tatjana Takseva and Arlene Sgoutas
April 2015

Natal Signs: Cultural Meanings of Pregnancy, Birth and Parenting
Edited by Nadya Burton
April 2015

Mothers, Mothering and Sex Work
May 2015



Black Motherhoods
edited by Karen T. Craddock
June 2015
Fall 2015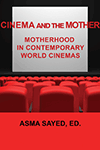 Cinema and the Mother
Motherhood in Contemporary World Cinemas
Dr. Asma Sayed, Ed.
Fall 2015


Reading/Speaking/Writing the Mother Text: Essays on Caribbean Women's Writing
edited by Cristina Herrera and Paula Sanmartín
Fall 2015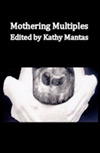 Mothering Multiples
edited by Kathy Mantas
December 2015
Demeter Press is the first book publisher focused specifically on the topic of mothering/ motherhood. We are an independent feminist press committed to publishing peer-reviewed scholarly work, fiction, poetry, and creative non-fiction by and about mothers, mothering and family issues. The press is named in honour of the Goddess Demeter, herstory's most celebrated empowered and outraged mother.
ANDREA O'REILLY: MOTHERHOOD IS NOT A LIABILITY -
RACHEL EPP BULLER - LITERARY MAMA - JUNE 1, 2014
Demeter Press at Risk of Closing: Is Motherhood a Feminist Issue Worthy of Support? - The Feminist Wire - May 2014
I didn't get a PhD to become a Mom (Or, Motherhood is Not a Liability)
by Joanne Minaker
Demeter Press is the publishing arm of the Motherhood Initiative for Research and Community Involvement (MIRCI). Click here to find out more about MIRCI.
Purchasing a Demeter Press title:
To order a Demeter title click on the add to shopping cart button under the title and then follow the steps to purchase using our shopping cart.
IF YOU ARE 2014 MIRCI MEMBER OR A DEMETER AUTHOR/CONTRIBUTOR YOU WILL RECEIVE 40% OFF ALL TITLES using your coupon code. Email info@demeterpress.org for coupon code.
FREE SHIPPING ON ALL ORDERS OVER $60.
Canadian please add 5% tax.
PLEASE NOTE: BOOK ORDERS WILL BE MAILED WHEN ALL BOOKS ORDERED HAVE BEEN PUBLISHED.
Please note: Books are shipped every second week. Please allow 2-4 weeks for North American orders and 8 weeks for International orders.

Wholesalers and Bookstores please contact our distributor directly:
Brunswick Books
20 Maud St. Suite # 303
Toronto, Ontario M5V 2M5
(416)703-3598 ph (416)703-6561 fax
Visit our ordering page for more information.

---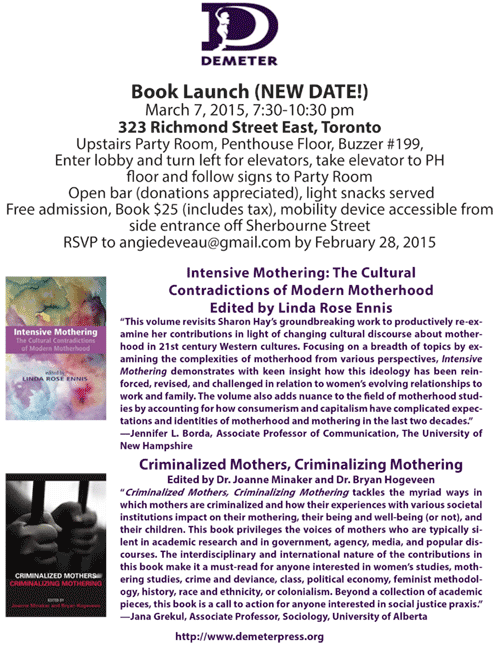 Click here to download the flyer.
---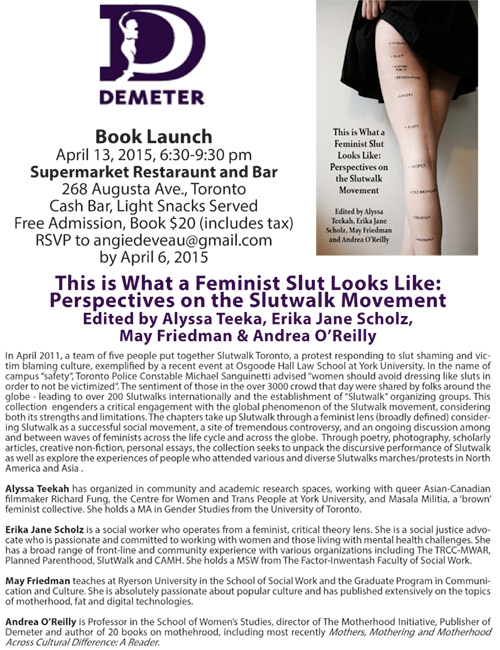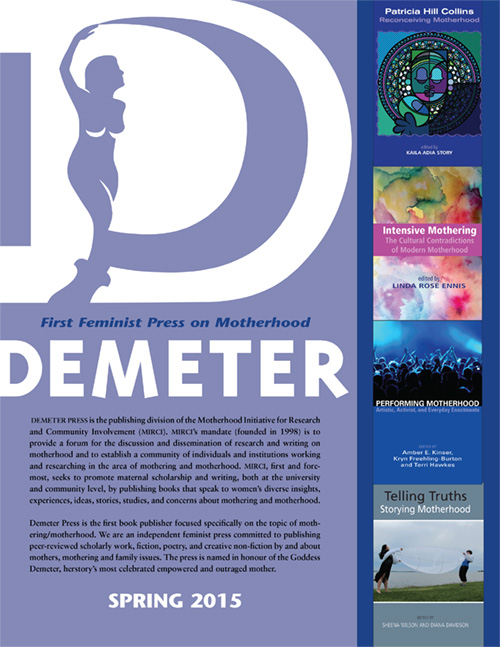 Click here to download the Demeter Press Spring 2015 Catalogue

Now Available!

The Myth of Demeter and Persephone
Demeter was the Greek goddess of agriculture and fertility who unleashed her power when her beloved daughter Persephone was abducted and taken to the underworld by the god Hades. Overcome with rage and grief, Demeter withheld the coming of Spring leaving the chief god Zeus, who was now faced with the plight of the earth's barrenness, with no choice but to demand that Hades return Persephone to her mother. In her classic book Of Woman Born, Adrienne Rich interprets the Demeter/Persephone story as a compelling representation of every daughter's "longing for a mother whose love for her and whose power were so great as to undo rape and bring her back from death," signifying "every mother's longing for the power of Demeter and the efficacy of her anger." In patriarchal culture, where there are so few examples of empowered mothering, in both life and literature, Demeter's triumphant resistance serves as model for the possibility—and power—of feminist mothering.
We are the first book publisher focused specifically on the topic of motherhood/mothering and are a peer-reviewed scholarly press.. Demeter Press is currently accepting scholarly manuscripts for publication consideration for 2012/2013.
For more information, or to submit a manuscript, please contact:
Demeter Press - info@demeterpress.org